High Performance LED illuminators for your Security and Safety
RayLED offer a complete range of Infra-Red and White-Light LED illuminators for CCTV and Safety Critical applications.
We provide a range of LED illuminators to create a safer global environment whether used in combination with surveillance cameras or as general area lighting.
Our drive is to improve the safety of any area at night and to improve the performance on any CCTV system under darkness.
We are committed to technology. Our products combine cutting edge technologies with the highest levels of quality to deliver outstanding performance and reliability. Our philosophy is innovation+illumination and we will always look to lead lighting trends in the market.
We are passionate about the environment and have a true Green Philosophy. Products and functions within the products are designed to save energy, save electrical consumption and reduce CO₂ usage.
Our products are the top quality in the CCTV industry, built and hand mounted on demand to use the latest technology SMT LEDs.
It includes inbuilt power adjust from 10‐100%, inbuilt photocell for automatic on / off operation with adjustable sensibility, telemetry connection for remote operation...
All are IP66 weatherproof, Anti-Vandalism, usable between -50 / + 50°C and under 5 YEARS WARRANTY for an expected lifetime of 10+ years.

Please wait while 3D is loading ... You have mouse control
VARIO i8-3 - Infrared Illuminator - Interchangeable Lens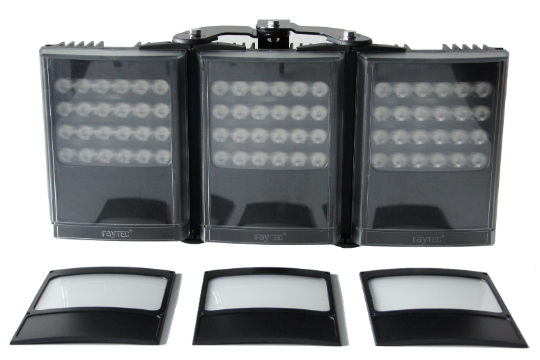 VIDEO : RayMax Infra-Red Illuminator in action!